It seems like only yesterday the Zika virus was headlining the news. Travelers were scared, especially those who were pregnant or considering getting pregnant, and rightfully so. Epidemics and pandemics are always a reason for concern when traveling, especially for vulnerable populations. In 2020, we are faced with a worldwide pandemic – the Coronavirus Disease 19 (COVID-19).
Travelers have a lot of questions regarding their travel protection plans. They're afraid to travel, and they want to know if they can cancel and file a travel insurance claim. The truth is, cancelling your trip for fear of contracting the virus is not a covered reason under the trip cancellation benefit provided by travel protection, not unless you have cancel for any reason coverage.
1. cancel for any reason: epidemics & pandemics
Cancel For Any Reason is exactly what it sounds like – you can cancel your trip for any reason.*
When Zika virus became an epidemic, many travelers weren't sure what to do. Several babymooners – couples who travel during the early stages of pregnancy – were scrambling for ways to cancel their trip and hang on to the money they invested.
Those who purchased plans without CFAR were not eligible for coverage. They did not have a covered reason for cancellation. They had not contracted Zika virus, they were not sick and unable to travel, they were simply recommended not to travel to those destinations due to fear of the pandemic.
Those who purchased CFAR were able to cancel and receive up to 75% of their non-refundable, prepaid trip costs back.
First and foremost, this optional coverage is separate from Trip Cancellation coverage. For TravelSafe, you can add the Cancel for Any Reason benefit onto our Classic Plan, which makes it the Classic Plus Plan.
Always review your specific plan documents. In some cases, like New York, CFAR is not available. Also, depending on your state of residence, you may be required to insure the full cost of your trip to be eligible to purchase CFAR.
It's important to understand your documents and call your us with any questions.
For reasons like fear of disease, you can purchase Cancel for Any Reason. Should there be an outbreak in or around your travel destination, you'd have the option to cancel your trip. Had you been relying solely on the Trip Cancellation benefit, you would not be eligible for reimbursement, because fear of contracting pandemics and epidemics is not a covered reason for cancellation.
In order to purchase CFAR, you'll have to meet certain conditions. For TravelSafe, we've outlined these conditions below:
When to Buy CFAR
This will vary by company, but TravelSafe requires you buy CFAR within 21 days of the date your initial trip deposit is received.
Your best bet is to always purchase coverage as soon as you begin planning your trip. You can always make edits to travel dates and trip costs if they change as you go on. The most important thing is ensuring maximum coverage.
When to Cancel
In order to receive the Cancel for Any Reason benefit, you must cancel your trip 2 days or more before your scheduled departure date. If you're schedule to leave on 2/14/2024, you'll need to cancel by 2/12/2024.
3. Review Your Specific plan document
Always review your specific plan document. In some states, like New York, CFAR is not available. It's important to understand your documents and always call us with any questions.
Viruses have a long history with this planet, and they are not going anywhere anytime soon. The best thing we can do is prepare ourselves and manage the risks associated with them. As travelers, we can take precautions before and during our trips.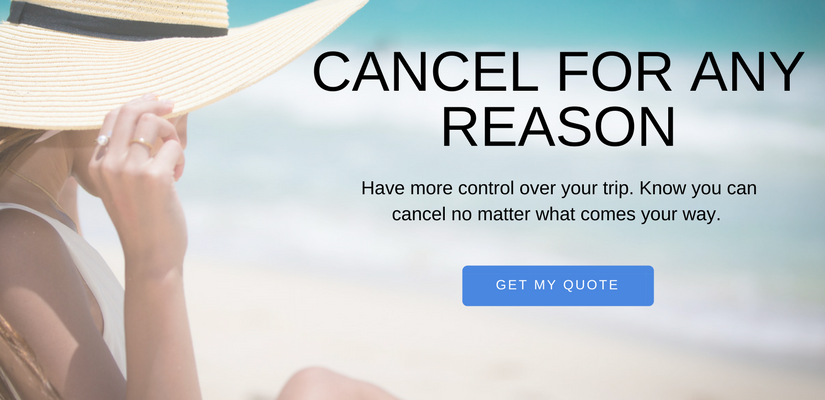 *For the Optional Cancel for Any Reason benefit, the insured can cancel his/her Trip for any reason not otherwise covered by the Plan and be reimbursed for 75% of the prepaid, non-refundable Payments or Deposits for the insured's Trip (see Plan Document for complete details) provided: 1) the insured's payment for the Plan and enrollment form are received within 21 days of the date the initial Payment or Deposit for his/her Trip is paid; and 2) the insured cancel his/her Trip two (2) days or more before his/her Scheduled Trip Departure Date. * Not available to residents of New York.
Disclaimer (will be a hyperlink embedded in the page footer): This advertisement contains highlights of the plans, which include travel insurance coverages underwritten by United States Fire Insurance Company under form series T210 et. al. and TP-401 et. al. The Crum & Forster group of companies is rated A (Excellent) by AM Best 2020. C&F and Crum & Forster are registered trademarks of United States Fire Insurance Company. The plans also contain noninsurance Travel Assistance Services provided by Seven Corners, Inc. Coverages may vary and not all coverage is available in all jurisdictions. Insurance coverages are subject to the terms, limitations and exclusions in the plan, including an exclusion for pre-existing conditions. In most states, your travel retailer is not a licensed insurance producer/agent, and is not qualified or authorized to answer technical questions about the terms, benefits, exclusions, and conditions of the insurance offered or to evaluate the adequacy of your existing insurance coverage. Your travel retailer may provide general information about the plans offered, including a description of the coverage and price. The purchase of travel insurance is not required in order to purchase any other product or service from your travel retailer. Your travel retailer may be compensated for the purchase of a plan. CA DOI toll free number: 800-927-4357. MD Insurance Administration: 800-492-6116 or 410-468-2340. The cost of your plan is for the entire plan, which consists of both insurance and non-insurance components. Individuals looking to obtain additional information regarding the features and pricing of each travel plan component, please contact TravelSafe Insurance dba Chester Perfetto Agency, Inc. 40 Commerce Drive, Wyomissing, PA 19610; 800-523-8020; info@travelsafe.com; California Agent License #OC32142.
AH-2563