Travel insurance is a valuable way to limit the risks associated with travel, deserving of consideration by every traveler. Despite its many benefits, there remains a great deal of confusion, and even skepticism, surrounding travel insurance.
Perhaps the perceived complexity of travel insurance plans and our reluctance to prepare for worst-case scenarios prevents us from discovering the many benefits of travel insurance. However, equipped with the proper information, you can choose the best plan for your trip and simplify the decision-making process.
From questions regarding pre-existing medical conditions to choosing the right plan, here are answers to 11 common travel insurance questions.

1. WHAT IS TRAVEL INSURANCE EXACTLY?
Travel insurance is a contract between a travel insurance provider and a traveler who has financial interest in lessening risks associated with travel.
The traveler pays a premium to a travel insurance company in exchange for coverage for things like unexpected medical costs, flight delays, cancellations, evacuations, and emergency assistance. Depending on which plan you choose, coverage will vary.
2. WILL TRAVEL INSURANCE COMPANIES TRY TO CHEAT ME OUT OF WHAT IS OWED TO ME?
No. Travel insurance companies strive to pay every legitimate claim covered by your policy's terms. Understanding your plan is always helpful because it avoids confusion as to what is covered during your trip or the claims process.
Be sure to take advantage of your plan's review period. Each travel insurance plan comes with an industry-wide review period, which allows you to look over your policy, ask questions, and determine whether the coverage works for you. If you believe the plan you purchased is not to your liking, you are able to cancel the policy in exchange for a full refund during this time.
3. IS IT JUST A FANCY VERSION OF HEALTH INSURANCE?
No, it is not a fancy version of your health insurance plan. In order to receive coverage, a qualified physician must deem treatment medically necessary. Routine doctor's visits, medical tourism, prescription refills, and standard health assessments are not covered within plan benefits.
An added benefit to travel insurance: it can offer emergency medical and dental treatment during your trip without the strict network limitations of several PPO and HMO plans.
4. I AM ALREADY BEING TREATED FOR AN ILLNESS. WILL I BE COVERED?
Possibly. One company may provide coverage while others will not. Most companies who offer coverage for pre-existing medical conditions have eligibility requirements.
This coverage usually requires purchase at deposit or within 7-21 days from the date you made the first payment on your trip. Additionally, your doctor must have cleared you to travel at the time you purchased your policy.
Expert Tip: Many policies offered by cruise lines, tour operators, and airlines do not cover pre-existing medical conditions.
---
Are your pre-existing conditions covered?
Take a peek at our coverage & find out. Get a quote today.
---
5. DO PRE-EXISTING CONDITIONS APPLY TO NON-TRAVELING FAMILY MEMBERS?
It will depend on the company and plan you choose. There are travel insurance companies who only apply pre-existing conditions to policyholders and traveling companions.
In contrast, you have to have pre-existing conditions waived for some plans and others will not cover you for the pre-existing conditions of your non-traveling family members.
6. MY CREDIT CARD SAYS THEY OFFER TRAVEL INSURANCE. ISN'T THAT ALL I NEED?
Not unless you carry an American Express Centurion card, which is exclusively for big spenders, invite only, and has a steep initiation fee of $5,000.
The truth is, even the best credit cards offer limited coverage. Low benefit limits and a long list of exclusions can leave you with a costly bill for things you could have had covered otherwise.
7. HOW DOES TRAVEL INSURANCE WORK? WILL I RECEIVE AN INSURANCE CARD IN THE MAIL?
You will not receive an insurance card in the mail. Instead, travel insurance companies send you a brief description of coverage with your emergency assistance contact information via email (it can be mailed upon request).
Smaller costs are often paid out of pocket, and you file for reimbursement later on. Larger catastrophic costs are handled by the travel insurance and emergency assistance company.
For example, both payment and planning would be handled by the travel insurance and assistance companies for a hospital stay or medical evacuation.
8. WHAT ARE THE DIFFERENT KINDS OF TRAVEL INSURANCE?
There are two main types of travel insurance: medical only and packaged plans, or comprehensive travel insurance. Both have long-term and short-term travel options, and the type of plan you choose will depend on your needs.
Medical only plans offer coverage for the costs of necessary medical care, medical evacuations, and sometimes, repatriation. These plans are often used by expatriates or student travelers living overseas. Return dates are not always set, so the option for renewal works out well for them.
Packaged plans offer coverage for you, your things, and your travel investment. Necessary medical costs are usually covered, along with things like medical evacauations, non-medical evacuations, flight delays, cancellation, and lost or stolen baggage.
9. WHAT IS NOT COVERED BY TRAVEL INSURANCE?
Things the insurance company lists as exclusions. Exclusions are defined within your travel insurance plan and are always predetermined. They exist so you know what is and is not covered up front.
Here is what you would typically see as an exclusion:
An act of war.
Riding or driving races, or speed or endurance competitions or events.
Participating in a professional stunt.
Being intoxicated or under the influence of any controlled substance, unless as administered by a legally qualified physician.
While policy exclusions vary by plan, travel insurance companies agree on one thing: anything foreseen is not covered. In other words, if you know about it ahead of time, you do not have coverage. You cannot buy coverage for a hurricane that is already named or a terrorist incident that happened yesterday.
10. HOW OFTEN IS TRAVEL INSURANCE USED SUCCESSFULLY?
According to the U.S. Travel Insurance Association, in 2014, 85% of impacted travelers who had travel insurance said they were satisfied with their purchase.
Here are real claims told by travelers: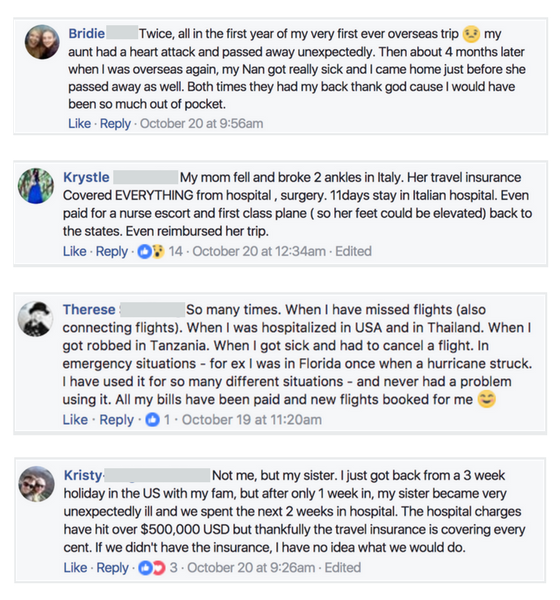 11. HOW DO I KNOW IF I AM CHOOSING THE RIGHT PLAN FOR MY TRIP?
By asking yourself the right questions. It will help you effectively choose a plan that fits your needs.
Some questions you should ask are:
How long is my trip?
How often do I travel?
How much of my prepaid trip costs am I willing or able to lose?
Will I be partaking in extreme sports?
What are the plan features?
What are the risks associated with my trip?
What are the costs associated with these risks?
If faced with travel mishaps, which risks would I need help lessening?
1. "Americans Spending More on Travel Insurance." Press Release. www.ustia.org. July 14th, 2017.