Seasons are regional.
Tropical cyclones are a worldwide phenomena. There are seven tropical cyclone basins, all with varying seasons and times of peak activity. Here are the 7 tropical cyclone basins where storms occur:
Atlantic basin
Northeastern Pacific basin (includes Central Pacific)
Northwest Pacific basin
North Indian basin
Southwest Indian basin
Southeast Indian/Australian basin
Australian/Southwest Pacific basin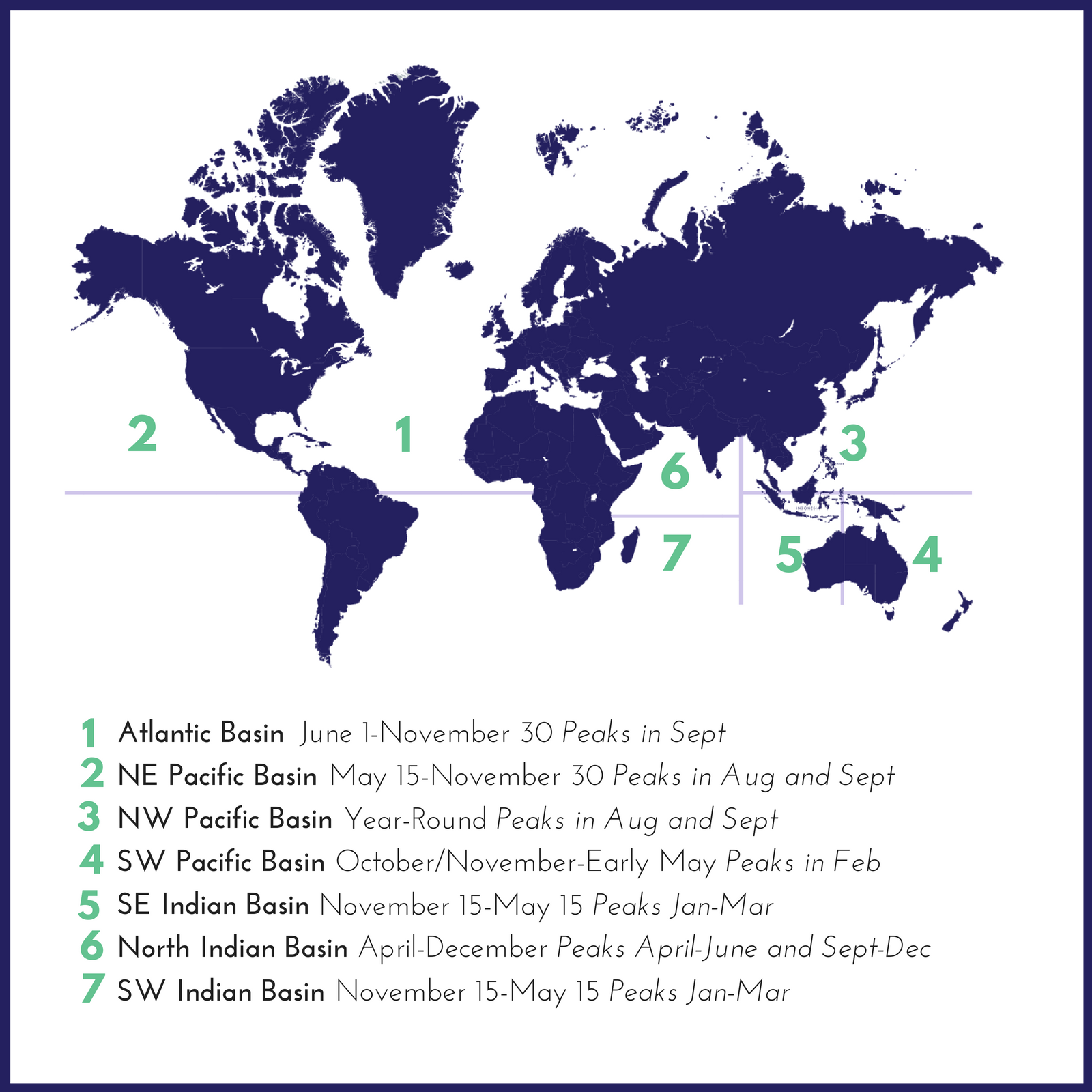 Information received from NOAA via http://www.aoml.noaa.gov/phod/cyclone/data/seven.html.
Atlantic hurricane season
Atlantic hurricane season officially runs from June 1st to November 30th , although peak season runs from August to October with maximum activity in September. The Atlantic hurricane season affects areas in North Atlantic Ocean, Gulf of Mexico, and the Caribbean Sea.
Here are a few destinations travelers may worry about during the Atlantic hurricane season:
Aruba
Jamaica
Belize
New Orleans, Louisiana

Cancún

, Mexico
The Azores
Even the United Kingdom
Northeast Pacific hurricane season
The Northeastern Pacific hurricane season begins on May 15th and ends November 30th, and "peak activity occurs between July and September," according to NOAA. Peak activity occurs over a broader length of time in the Northeast Pacific than the Atlantic basin, and the Northeast Pacific hurricane season affects regions spanning from Mexico to about the dateline.
Here are a few destinations travelers may worry about during the Northeast Pacific hurricane season:
Baja Peninsula (both California and Mexico)
Hawaii
West Coast, Mexico
Northwest Pacific typhoon season
The Northwest Pacific typhoon season runs year-round, with peak activity in late August/early September. The Northwest Pacific basin spans regions west of the dateline to Asia, including the South China Sea.
Here are a few destinations travelers may worry about during this season:
Japan
the Philippines
China
North Indian tropical cyclone season
Tropical cyclones between April to December in the North Indian basin, and affect areas including the Bay of Bengal and the Arabian Sea.
Here are a few destinations travelers may worry about during this season:
Maldives
India
Thailand
Myanmar
Southwest Indian tropical cyclone season
Tropical cyclone season spans from November 15 to May 15 – a six month period. Peak season occurs in mid-January, and again between mid-February and early March.
Here are a few destinations travelers may worry about during the Southwest Indian tropical cyclone season:
Madagascar
South Africa
Mozambique
Southeast Indian/Australian tropical
cyclone season

The Southeast Indian/Australian tropical cyclone season begins on November 15th and ends May 15th. Peak activity occurs at the same time as it does in the North Indian ocean – mid-January, and again between mid-February and early March.

Here are a few destinations travelers may worry about during the Southeast Indian/Australian tropical cyclone season:
Western and Northern Australia
Indonesia
Malaysia
Australian/South Pacific basin cyclone season
The Australian and South Pacific hurricane season begins on November 1st and ends April 30th with peak activity occurring in late-February and ending in early March.
Here are a few destinations travelers may worry about during the Australian/South Pacific tropical cyclone season:
Gold Coast

(Eastern)

Australia
French Polynesia
New Caledonia
Fiji
Travel has no guarantees.
It wasn't until 2017's Atlantic hurricane season that the travel insurance industry saw a major spike in hurricane-related claims, but long before the we all knew that travel has no guarantees. In one fell swoop, your trip plans can crumble. Maybe it hasn't happened to you (we sure hope not) but you've heard a horror story or two – right?
While there's a strong chance you will travel during hurricane season without a hitch, it's important to know how your trip may be impacted. It is easy for TravelSafe to share stories of our own travelers, but we believe the United States Travel Insurance Association (UStiA) provides some of the best insight to hurricane season in a recent press release.
Here are the most common ways travelers have been impacted during hurricane season:
Trip Cancellation
A hurricane can cause air travel to come to a complete standstill, causing you you to miss a prepaid cruise, tour, or hotel stay.
Hotels Are Non-Operational
Many hotels were devastated by the 2017 hurricane season. Should this happen to your affected destination, you may have to cancel, re-route, or reschedule your trip because hotels are non-operational.
Travel Delays
A hurricane in the Caribbean can impact flights in the Midwest. If your return home is delayed by hours or days, you'll be forced to pay for additional accommodations at your destination, food, and possibly transportation.
Emergency Evacuations
There are times when a hurricane's path is a major travel destination and travelers are ordered out. If your destination is in the path of a hurricane, you may need to evacuate to another area or make alternate travel arrangements.
How you can leverage travel insurance.
The good news is that travel insurance can help you should a hurricane affect your home, travel plans, or destination. You may believe that if a hurricane causes delays, interruptions, and cancellations you will be reimbursed for your travel expenses. Sometimes this is true, but we find that it is often not the case. Many cruise lines, hotels, and tour operators provide a credit versus a monetary refund.
That's where travel insurance comes in.
Travel insurance can reimburse you for things like cancellations, interruptions, and delays, while covering the cost of emergency evacuations and emergency assistance plans.
Here are a few ways the United States Travel Insurance Association (UStiA), a non-profit organization aimed to educate the traveling community on how travel insurance works and where to buy, states travel insurance during hurricane season can help:
Financial
Travel insurance can reimburse non refundable payments if you have to cancel or interrupt a trip due to a hurricane or other weather-related event. You may also be covered for additional transportation expenses to evacuate from the area of the storm or return home. Most comprehensive travel insurance policies will also reimburse up to a set amount for hotel accommodations, meals, and incidental expenses if travel is delayed beyond a certain period of time (usually six hours or more).
Assistance
Most travel insurance providers offer a 24-hour hotline for travel and medical assistance services. These services may include helping you evacuate from an area that is in the path of a hurricane or other natural disaster, and helping you make alternative plans, such as finding and booking a hotel, rescheduling flights, and accessing other needed assistance.
Medical
If you become ill or are injured during your trip, a comprehensive travel insurance policy can help reimburse medical expenses, locate and arrange appropriate medical care, and arrange and pay for medical transportation, including emergency air ambulance evacuation, if necessary."
It is important to always read your travel insurance plan. Some plans exclude hurricanes from certain coverage, while others have specific language in place to provide coverage in the event of a storm. You should also know when you need to purchase your plan for it to be effective. After a storm is named, you will not be eligible for coverage. Would you be eligible for car insurance coverage after an accident? Insurance is for unforeseeable events.
How and when to buy travel insurance.
Travelers often believe that travel insurance automatically means coverage for all of the what-ifs. But this isn't always the case – travel insurance coverage varies by plan and by company. What is covered in one policy, may not be covered in another. It's important you know that all travel insurance plans aren't created equal and your scope of coverage depends on the type of plan you buy and when you buy it.
Let's break it down for you a little.
Buy During the Booking Process
"UStiA suggests purchasing travel insurance when booking your trip." This helps the traveler maximize their coverage and avoids being without coverage in the event a hurricane forms and impacts their trip before they're able to buy a plan. Another reason why purchasing coverage during the booking process is important: you can't buy a plan after the storm is named. Additionally, many companies require your coverage to be active for 14-21 days before you are eligible for hurricane coverage. By purchasing the plan during booking, you avoid time-bound limitations such as these.
"Travel insurance plans typically exclude coverage if the policy is purchased after a hurricane or tropical storm becomes a named event," UStiA states.
Compare Hurricane Coverage Between Plans
Travel insurance plans vary. What works for one insurance company may not work for another, and it is always a good idea to shop around and find the plan that is best for you. Some companies do not have a specific benefit for Trip Cancellation in the event of a named hurricane, while other companies will reimburse you for cancelling your trip because a hurricane is projected to land on a destination within your itinerary.
Be sure to read your travel insurance policy, because each company has their own limitations and exclusions.
Purchase Online, Over the Phone, or From a Travel Agent
If you used a travel agent to book your trip, chances are they already have a travel insurance provider they can offer to you. If hurricane season is a top concern, ask your travel agent about the insurance coverage that works best for hurricane season. If they say their insurance company doesn't have specific coverage for hurricanes, you can always search online or get a quote from TravelSafe.
It is pretty easy to purchase a travel insurance policy online, but it can be a bit overwhelming if it's your first time. Understanding how the insurance benefits work can be a little daunting, so don't be afraid to pick up the phone. Any legitimate U.S. travel insurance company has a customer service department willing and able to answer any and all questions you may have. Ask away. If you are on the phone and ready to purchase your plan, you can do it that way or go back to your online quote and finalize your order.
TravelSafe's Hurricane Coverage.
Even long before 2017's hurricane season, travel had no guarantees. You could book the most amazing trip available in the industry, have everything perfectly planned, and in one fell swoop it went to pieces. Maybe it hasn't happened to any of your clients, but you've heard at least one horror story –right?
TravelSafe Insurance has coverage specifically for tropical cyclones, hurricanes, and typhoons. The coverage is only available with certain plans and can always vary by state, so it's important to encourage travelers to check plan certificates when reviewing the plan.
Remember, benefits vary by state. This is a general description of the TravelSafe coverage. Always refer to the plan certificate for specific coverage for your clients, and be sure to send them to TravelSafe with any questions.
Trip Cancellation
If your client is 36 hours out of their scheduled departure and a hurricane is projected to land on their destination, they can receive reimbursement for any unused, non-refundable prepaid travel expenses. The hurricane has to be officially named by NOAA and projected to land on their destination. This is available only with the TravelSafe Classic plan. Read more about Trip Cancellation during hurricane season here.

Trip Interruption
Sometimes travelers have to cut their trip short due to weather related incidents. A hurricane may be headed to their destination and they need to leave early. Trip interruption can help recover lost money from ending hotel stays prematurely or purchasing additional flights. Read more about Trip Interruption here.

Missed Connection
Not every traveler heads to a place destined to be slammed by a hurricane during peak season, but sometimes a hurricane can affect flights thousands of miles away from its path. If your client misses their trip departure because their connection is delayed by 3 hours or more, they can be reimbursed for up to $2,500 in travel expenses to make up for their missed connection. Read more about Missed Connection here.

Travel Delay
Weather can delay flights for several hours, sometimes overnight. Travelers can be left responsible for additional hotel costs, meals, and transportation. Travel delay coverage helps reimburse the traveler for necessary costs so long as they meet the coverage requirements and provide documentation. Read more about Travel Delay here.

Emergency Evacuation
TravelSafe plans come with emergency evacuation due to natural disasters like hurricanes, along with many other reasons. During hurricane season, travelers may find they need to be evacuated from their destination and brought to safety. Public evacuation resources are often limited during times of extreme need. Having a travel insurance plan with emergency evacuation will provide travelers with access to a network of resources without having to work out the logistics themselves.

Emergency Medical
If a traveler becomes ill or is injured during their trip, TravelSafe can help reimburse medical expenses and covers the Emergency Assistance needed to locate and arrange the appropriate medical care. If medical transportation is necessary, our emergency assistance provider will work out the specifics.

Home Damage
If a traveler's place of resident is rendered uninhabitable by a hurricane, TravelSafe plans cover losses for trip cancellation and interruption. This is a great tool for travelers who live in regions susceptible to hurricane damage.
---
For a full list of page sources, please visit our source page here.