It is no wonder Peru attracts thousands of tourists each year. All you can ever dream of is here. From parts of the Amazon rainforest and Machu Picchu to the city of Lima and beaches of Mancorá, there is never a dull moment.
With all there is to see, the Peruvian government has been working hard to protect tourists and keep the destination's growth in popularity rising. They monitor and capture any criminals who target tourists and have implemented several ways for travelers to move safely throughout the region. In doing so, they have provided a safe environment – one tourists can truly enjoy.
The threat of violent and petty crimes is no greater in Peru than most of the major cities in the world, but, from the time your journey begins, you need to practice travel safety.
TravelSafe teamed up again with Your Local Cousin to bring you tips from told by a local living in Peru. This week it features Helen.
Here are my 12 Tips for Travel Safety When Visiting Peru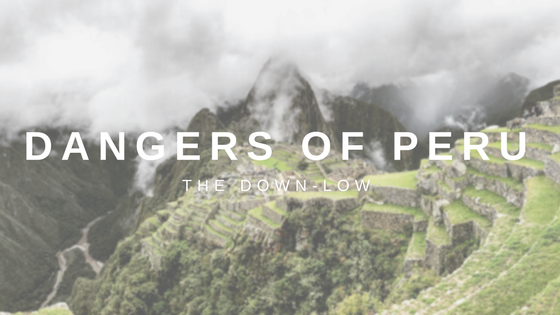 1. The Serenazgo
Lima is coastal and has 43 districts. The majority of tourists will stay in Miraflores. Miraflores is where you will feel safest due to the amount of tourist police and Serenazgo. Serenazgo is a friendly neighborhood watch program working with the police to ensure the safety of tourists. They are there to help you if you feel in any way unsafe.
2. Handling Your Luggage
Your flight lands in Lima's Jorge Chavez airport. It is a small airport but often acts as a gateway for drug traffickers, despite recent efforts of the AIRCOP project. Make sure your suitcases have a padlock on them. When it's time to end your trip and head home, be sure to do your own packing. If someone offers to pack your bags while cleaning your room for you at the hotel, you should always decline.
3. Transportation to Your Hotel
Use the Airport Express to get to your hotel. It is your safest option. However, this shuttle service only serves the district of Miraflores.
You may need to take a taxi depending on where you're staying. Use a safe taxi (or satellite taxi) that holds a permit to enter the airport area. There are desks of official cab companies outside of the arrival halls at the airport. This is the best way to make sure you are taking a licensed and reliable cab.
4. Taxi Safety Tips
In 2014 I was robbed at knife point. I missed the last bus home, so I got into what is called a "Collectivo". A collectivo is a taxi driver who picks up individuals at various stops and takes them to their destinations. I did just this but what I thought were passengers were in fact robbers. They stole my belongings and left me on the roadside, three miles from where I wanted to be. I learned never to take a collectivo again.
Fake taxis are an ongoing problem in Peru. Finding the right cab is important and worth the extra time and money. Always agree on a price before getting into the cab, and don't be afraid to bargain! Rates are always negotiable.
If you need to travel to or from other districts in Lima, use a safe taxi (or satellite taxi) that holds a license and is registered. Call the cab from your hotel, or have the hotel call the cab for you.
Remember, even though drivers hold a license, practice diligence as there are still several crooked cabbies out there.
During your ride, always keep your personal belongings on the floor. By doing this, you run less risk of being robbed at a red light or traffic stop.
Peruvians do not recommend that tourists take the taxi alone for several reasons, but if you must, be sure to stay on alert. Do not enter a cab that has passengers in tow already and don't ever let your driver pick someone else up on the way.
Any cab that is official will have their licensing on display. Be sure to check the license and official cab paperwork before getting in.
5. Vaccinations
You may need certain vaccinations before traveling to Peru: It is a good idea to ensure you are up to date with all the common childhood vaccinations before visiting (you may even need a booster). Check your travel itinerary and let your doctor know which parts of Perú you intend to explore.
6. Carry a Photocopy of Your Passport
Make sure you photocopy your passport and carry that with you in case you are asked to produce it. Police do random checks on passers-by. Do not feel alarmed as this is a good thing and are there to eliminate robberies or thefts.
7. Scammers
There are many people (even tourists) that will approach you looking for help. They will try and sell you a story of something that has happened to them. Even if these stories are true, it is always best to be polite and direct them to the nearest policeman or police station who can help them better. Don't involve yourself.
8. Petty Theft
Cell phones are stolen quite often in Lima. Do not walk about with your head in the clouds texting or on social media. The thieves in Lima are sharp-eyed and your phone will be gone in the blink of an eye.
In 2016, I had two mobile phones stolen. One was picked up on a bus (buses are packed and opportunity strikes) and the other was in a small office where I was working.
The year before I was at a market called Tacora where my satchel bag was ripped from my body and I was left with the straps; my bag contained my pepper spray but even if that was in my hand I would not have been quick enough to use it. The police were very helpful and drove me to their station to file a report and then drove me home.
My bag contained my house keys, mobile and some cash. Thank god I had a spare set with a friend.
9. What to Wear
Do not walk around wearing expensive jewelry or designer clothes. You will only stand out and could be easily targeted by scammers and criminals.
10. Fake Money
Shopkeepers, taxi drivers, Wherever there is an exchange of money it is always good to make sure it's not counterfeit – even from shopkeepers and taxi drivers. It is fairly common and it's good to learn how to spot a fake coin or banknote from a real one.
For any vacation, you should have a form of trip insurance. It provides aid and reimbursements for theft, lost baggage, and medical treatment should you need it. Not all hospitals in Peru may not meet the U.S. standards, and a policy can help make sure you are treated at the best hospital or get you back to the States for proper medical care.
12. Enjoy Peru
The purpose of this article was to highlight the dangers of Peru, but it's important to remember that any major city in the world has risks. For every danger in Peru, there are countless things to enjoy. The weather is wonderful, Peruvians are overall very friendly, and the food is to die for.
One of the best chef's in the world is Peruvian – Virgilio Martinez. Read about Virgilio Martinez and other great Peruvian restaurants here.