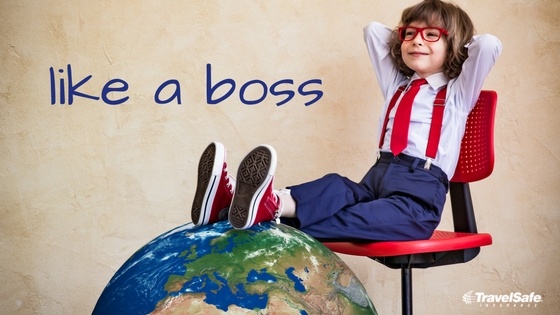 The thought is overwhelming; your parents, in-laws, children, sister, brother, nieces and nephews all want to travel together. Multigenerational travel is an opportunity to take time away from your busy schedules and bond over a truly worthy experience but many people feel overwhelmed at the thought of putting everyone in the same place for an extended period of time. You do not have to feel overwhelmed by multigenerational travel, and if you do, you're doing it wrong.
Greg Benchwick wrote "How to Survive a Multi-Generational Family Vacation (without losing your mind)," and gives a few really great pointers as to how you can survive, and they mostly come from his own experiences. As Greg says, "Not all destinations are created equal. For your ragtag crew, you'll need to ID a destination that meets the needs of the kids, the partner, the dog, the goldfish, your Aunt Couie and the older generation. But don't be surprised if grandpa really wants to go water skiing while your 25-year-old cousin is more interested in hanging out poolside."
Flexibility in your travel arrangements and expectations is required with going on a multigenerational travel adventure.You don't want to be rigid in assuming what everyone is going to want. What each individual is interested in experiencing while traveling may surprise you. Travel brings an opportunity for us to break our daily routine and come out of our shells. Sometimes, for those twenty-somethings who are always moving, slowing down and allowing our bodies to rest is of great interest; but for those in retirement, who sip their tea slowly and relax daily, they may want to push the envelope and try something quite unexpected and relatively exciting.

Don't be surprised if Grandma wants to do something crazy
To make sure you're multigenerational travel getaway is a successful one, it is also important to choose a destination with a lot of really great options. For instance, Hawaii is known to be a beautiful place where you can enjoy the beach by day and luau by night, but there is actually so much to do in Hawaii that it makes a great destination for multigenerational travel.You can go hiking, snorkeling, take a few surf lessons, hit the spas, and take the thrill seekers zip lining. If one person wants to skip all of that and stay by the beach, let them. As long as they are being safe, allowing them to enjoy their vacation - their way, is going to make for a happier group.
While flexibility is important, so is some form of structure. This made sound confusing at first but let me explain. I am not looking for you to have a daily itinerary where you have breakfast 8:00-8:30, followed by the beach from 9:00-1:00 and zip lining from 2:00-3:30. While that may work and be fun for some, others will enjoy having the option to fly by the seat of their pants. If you have younger kids, ask them one day what they would like to do so they feel a sense of pride alongside of their excitement.
Greg also mentions the positive impact family dinners had on the group. The dinners were a great time to talk about the excitement of their day and plan the adventures of the next. So maybe a great idea is to come to an agreement in which dinner is the same time every evening, and everyone goes. This will act as a hub for your day and everyone can decide what groups want to go where to make everyone happy. Don't stress when is comes to multigenerational travel. After all, the experience is supposed to be just, an experience. Most memories will be happy ones, but for those few tiffs and headbutts, hopefully your group can look back and laugh as you plant your next multigenerational trip.